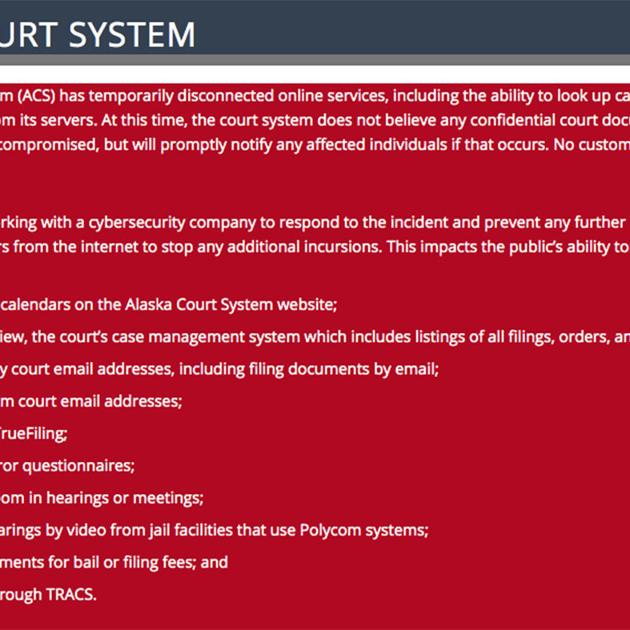 The Alaska delegation to Congress agrees that more needs to be done to protect U.S. infrastructure from cybersecurity attacks.
The three members of the Alaska GOP Congress want to help the government and industry protect the critical infrastructure that spans energy, transportation, and trade.
Each of the three offers a strategy for achieving this.
U.S. Representative Don Young, who helped the House pass the 2018 Cybersecurity and Infrastructure Agency Act (CISA), is considering bipartisan legislation to improve cyber protections.
Young cited the cyberattack on the colonial pipe system and cyber intrusions by the state of Alaska that disrupted essential services as evidence to improve U.S. online security.
"Cybersecurity is more important than ever and Congressman believes Colonial Pipeline hacking, December data leak from Alaska election records and this week's cyberattack on the Alaska Department of Health and Social Services demonstrates vital is to safeguard critical infrastructure. " said Zack Brown, Young's communications director.
Young: more needs to be done
The 2018 CISA Act created the Security and Cybersecurity Agency to strengthen cybersecurity.
"That was a significant step forward, but more needs to be done," Brown said.
"As discussions continue, expanding access to greater resources for businesses and all levels of government will be a component that the congressman will push into any possible bill."
U.S. Sen. Dan Sullivan sees the need to provide the funds federal agencies need to ensure the government and industry communicate about cyber risks and threats, said Nate Adams, Sullivan's press secretary.
Sullivan is open to working with colleagues in Congress to improve cyber protections for critical infrastructure, he said.
The senator supports ensuring that federal agencies "responsible for regulating, providing guidance and coordinating the exchange of threat information" have the resources they need, Adams said.
Murkowski emphasizes grid protections
U.S. Senator Lisa Murkowski noted that almost every sector of the economy depends on electricity, including telecommunications, banking, health and transportation.
"We have seen the terrible successful consequences of cyberattacks on our critical infrastructure," said Karina Borger, Murkowski's communications director.
"Sen. Murkowski continues to reiterate that it is the shared responsibility of the federal government and industry to protect critical infrastructure from cyber intrusions, particularly for the power grid. "
In April, Murkowski introduced bipartisan legislation called the PROTECT Act of 2021, for the "Protection of Electrical Resources (Network) with Cybersecurity Technology" Act.
The PROTECT law would support investments in cybersecurity by transmission owners.
The act was introduced before hackers were released from the Colonial Pipeline, the Alaska Judicial System, and the Alaska Department of Health and Social Services, which remains offline.
Senator Joe Manchin of West Virginia, his co-chair of the Energy and Natural Resources Committee, joins Murkowski with the PROTECT Act.
Murkowski is looking for areas of opportunity to take advantage of these efforts to improve cybersecurity, Borger said.
Imposing cybersecurity warrants is virtually a challenge and can be ineffective in countering cybercrime, Borger said.
"Fishing techniques are a very successful intrusion tool as they avoid security guarantees and are based on human error," he said.
"It is also difficult for the federal government to find a single solution to a problem as complex as cybersecurity in various industries."
Contact political journalist Linda F. Hersey at 459-7575 or follow her at twitter.com/FDNMpolitics.