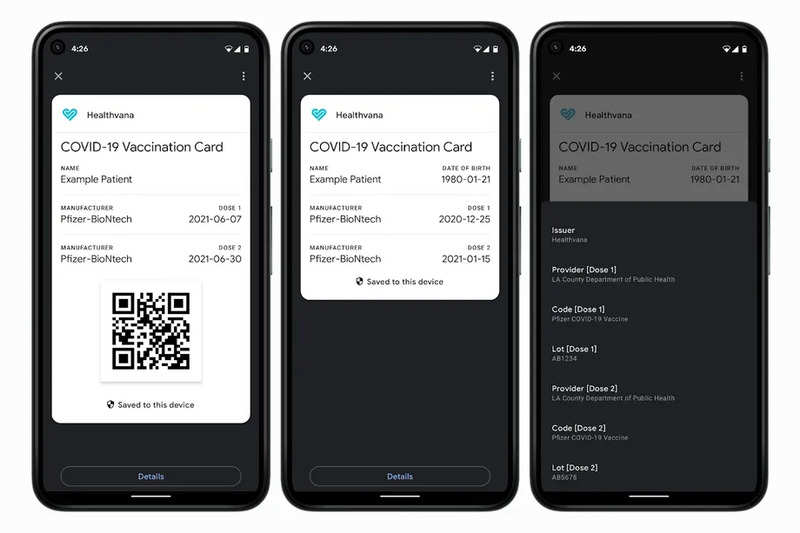 NEW DELHI: Tech giant Google is creating Android's built-in passes system, which will enable Android users to store a digital vaccine card. Calling it a Covid Card on their phone, the feature will be initially available in the US.
Google says that this new feature will rely on support from healthcare providers, local governments and other authorised organisations that distribute Covid vaccines. The feature will also store Covid test results.
The new Covid Card feature will show the information on when you were vaccinated and the name of the vaccine you received. This card will be saved from the healthcare provider's apps or website.
Google also suggests the users add a shortcut to the card on their home screen and it will offer the option when they save their card on their smartphone. The tech giant also mentions that the card will not be saved on the cloud and also Google will not use the information provided in the card for advertising purposes. Also, users will not have to install the Google Pay app to download, save or access the card.
Recently, Google introduced the ability to use Google Search and Maps to find Covid-19 vaccination locations in India. If users search for the Covid-19 vaccine location on Google Maps, they will get to see all the vaccination centres nearby. On Google Search, the tech giant will offer a different interface and you will see a host of information related to Covid-19 vaccination.
FacebookTwitterLinkedin
[ad_2]

Originally Appeared Here