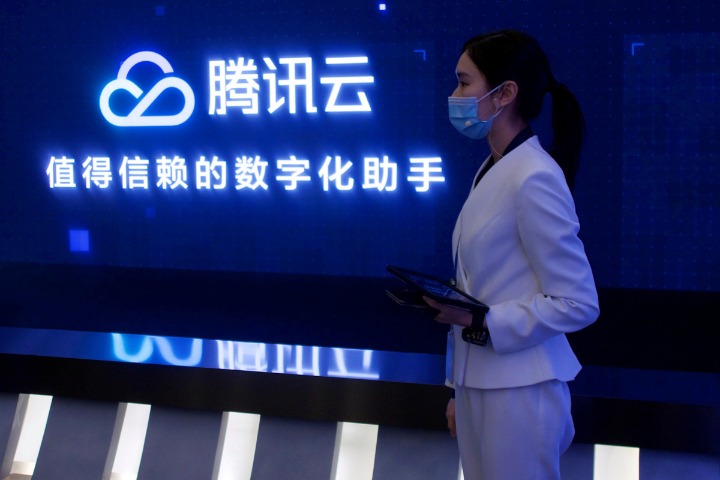 A staff member introduced the Tencent Cloud service during a media tour at Tencent headquarters in Shenzhen, Guangdong Province, on September 27, 2020. [Photo/Agencies]
Tencent Cloud, the cloud computing arm of Tencent Holdings Ltd, is launching four new Internet data centers worldwide, making its service available in 27 regions and 66 availability zones worldwide.
The recently added IDCs in Bangkok, Frankfurt, and Tokyo mark the second availability zone or isolated locations within the data center regions where cloud utilities originate and operate in each of these locations. Hong Kong represented the third such area in the city, which aims to meet growing business needs around the world.
"The launch of the new IDCs in Bangkok, Frankfurt, Hong Kong and Tokyo at the same time is a significant development in our strategy to quickly and efficiently expand our international portfolio," said Poshu Yeung, senior vice president of Tencent Cloud International , in a press release. "We are also planning to have more than 30% growth in terms of our IDCs worldwide by the end of this year."
Frost & Sullivan data found that 52% of organizations worldwide use cloud services by 2020, and another 34% are expected to add cloud infrastructure in the next two years.
Gartner consulting firm also indicated that global end-user spending on cloud utilities is expected to grow 23.1 percent in 2021 to $ 332.3 billion, up from $ 270 billion in 2020.
In late 2020, Tencent Cloud opened its second availability zone in Korea, followed by the first IDC in Indonesia and the third availability zone in Singapore in April 2021. The company said it will launch its second Indonesian IDC. and the first in Bahrain at the end of the year.