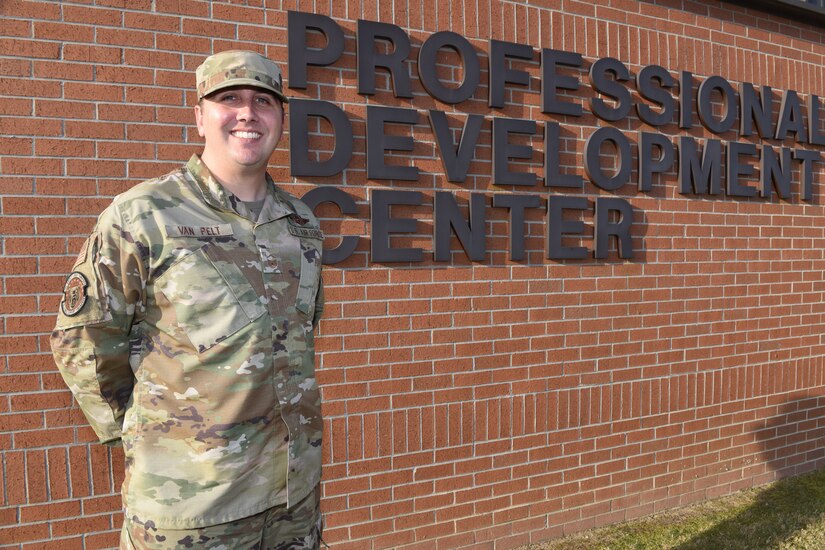 ROBINS AIR FORCE BASE, Ga. –
Like most processes, there is often room for improvement.
Master Sergeant. Stephen Van Pelt, a professional assistance advisor to the 78th Force Support Squadron, provides assistance to the entire Robins air base to all Team Robins through the Professional Development Center. He recently used comments from the Air Force Material Command's "We Need" survey to create various career development and career improvement initiatives to improve professional assistance services in Robins.
The company-wide AFMC 'We Need' initiative, launched on June 24, 2019, seeks input and recommendations from AFMC civilian and military aviators that can help maintain command to better support the Strategy of National Defense today and in the coming decades.
Van Pelt has recently made many changes to his program as part of the command initiative.
"The NCO and Senior NCO Professional Improvement Seminar is a recurring professional development opportunity hosted by the Professional Assistance Advisor," he said. "I have worked closely with the top 3, first sergeants and the Chiefs group to improve these offerings through panels, various instructors and improve lessons with interactive activities. Every day I have incorporated Leadership Conversations to attract leaders from all over the base to relate to the class. These topics include "Chaplain's Infinite Worth," Air Force Negotiation Center Conflict Management, 78th Wing Air Wing Process Manager's "Continuing Process Improvement, and many more."
In addition, Van Pelt created a panel of non-commissioned officers to provide an opportunity for these leaders during the course to learn about the challenges facing those under their leadership.
Van Pelt said he also developed the Superintendent Course to better prepare senior leaders for potential future positions.
"The superintendent course is a unique new local offering for our senior leaders to be positioned for superintendent roles in their organization," he said. "This three-day leadership course brings together a class of 25-30 students from different grassroots organizations. The course is divided into five different modules covering areas such as "The Role of the Superintendent", "Supporting the CC" and "Personal Wellness". There is a panel of commanders, a group leader group, tutoring time with the command leaders and more. "
"The real takeaway is the opportunity to network so that our top leaders can connect with each other in this course," Van Pelt said.
Van Pelt has added other courses that he says will help aviators in their careers.
"The Aviators Professional Improvement Seminar is a new four-day leadership course covering 26 diverse topics with nearly 56 strategically scheduled facilitators, instructors and mentors from the entire Robins team connecting with our enlisted aviators," he said. .
In addition, Van Pelt said he has added several other offerings to his program, including four-lens personality training, the Museum of Aviation Heritage Today tour with museum curators, and a quick mentoring event with 15 diverse leaders. non-commissioned officers from all over the world. Robins.
Van Pelt said he has also added a clothing and appearance team building activity to help aviators identify uniform violations, using mannequins provided by Robins' Exchange.
These are just some of the changes that Van Pelt has incorporated for the benefit of aviators.
The professional care advisor has also partnered with the grassroots Chiefs Group to organize a new biannual event, "Making Charge of Your Career," which covers promotions, record reviews and a mentoring platform that helps towards performing individual record reviews with aviators. .
The NCOIC program of the First Term Airman Center has also been recovered.
"This is a deliberate development program for an acute non-commissioned officer who holds a six-month position at the Center for Professional Development, working side by side with the professional assistance advisor," Van Pelt said. "They are certified to teach the Airmanship 300 curriculum for the first aircraft course offered monthly here at Robins. They help organize Airman's professional development seminar and support day-to-day operations at the professional development center. "
In other areas, Van Pelt said the Professional Development Center's technological upgrade was an innovative effort to achieve new 100-inch touchscreen laser projectors and touchscreen SMART mobile TVs, both for the Professional Development Center and for at the Airman Leadership School.
"This upgrade equipped five classrooms and an auditorium to address the 15-year-old technology gap and provides Team Robins with the most advanced tools to help improve classroom instruction to the future," he said.
Eventually, Van Pelt began a "CAA Walkabout" as another effort to change the brand of the CAA position and reach different base units.
"I have been working with the First Sergeant Council to connect with a unit each month, walking through work centers, interacting with aviators, learning their jobs, talking about opportunities and providing information on how to connect with the CAA for a . "Individual advice," he said.
Van Pelt said he recently made walking visits to the 78th Operations Support Squadron, specifically stopping at the 78th OSS Weather and Air Traffic Control Tower, and spoke with the aviation resource management team. .
In April, Van Pelt contacted other units during the visits.
"I went to the 5th Combat Communications Support Squadron and talked to information technology teams, supply teams and visited a combat training center," he said.
Van Pelt's program improvements are far from complete.
"The virtual development capability of the Professional Development Center will not only affect all the professional development programs I offer, but will also support the base and our mission partners, providing new ways to be innovative and creative with technology and reach a wider audience ". He said.
Van Pelt said the capability will give Robins the digital footprint he needs for current and future opportunities.
The company's senior officer professional improvement seminar is another course Van Pelt plans for the future.
"The CGO Professional Improvement Seminar will be a unique offering for our official community," he said. "The goal will be to connect with the official professional organization to host and launch a local leadership course, such as the superintendent course or other enrolled seminars that are hosted through the professional development center."
Van Pelt said he also has plans for an enlisted career expansion fair that educates Robins-enlisted aviators about special tasks that are available to enlisted bodies from the entire Air Force.
In addition, Van Pelt said the Total Strength Development Council will help create partnerships between organizations based on professional development.
"It will help create continuity, provide tools and resources for facilitators and keep the current professional development offering at the grassroots through the Professional Development Center," he said.
Van Pelt said the AFMC's "We Need" initiative has served as a tool to help Robins fulfill his role.
"In my show I need vision," he said. "The AFMC 'We Need' initiative helped shape my vision of my program and gave me the focus and structure I need to achieve areas that will make a difference for our aviators."