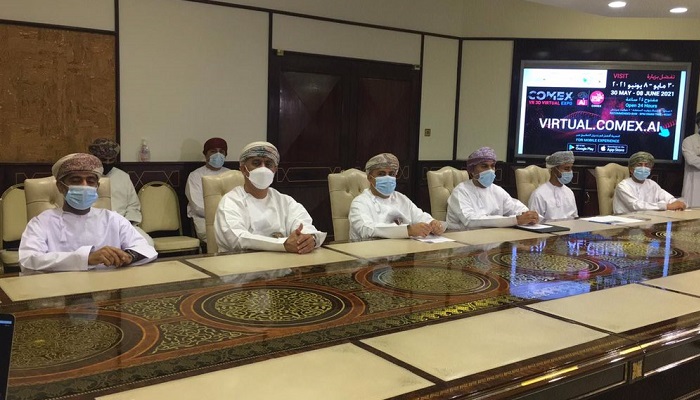 The Minister of Transport, Communications and Information Technologies has inaugurated "COMEX 2021". Photo – ONA
Muscat: His Excellency, the Minister of Transport, Communications and Information Technologies has inaugurated on Sunday 30 May 2021 the virtual fair of communications and information technology "COMEX 2021", with more than 85 participants that included institutions and companies.
In a statement posted online by the Oman News Agency (ONA), it was said: "His excellent ing. Said bin Hamoud bin Said Al-Maawali, Minister of Transport, Communications and Information Technology, virtually inaugurates the "COMEX 2021" information and communications technology fair under the motto "Digital transformation and accelerated use of the future". Participants included ten government institutions and about 80 private sector companies as well as some international companies. "
The exhibition aims to shed light on major trends and updates in the field of information and communication technologies around the world and introduce digital transformation initiatives and digital services and products.
His Excellency states that the Ministry wants to play a key role in 'Oman Vision 2040' by building a thriving digital economy, by implementing various national projects and initiatives such as digital transformation initiatives in economic sectors and government, and artificial intelligence. initiatives and stimulating emerging companies, small, medium and large. Also find opportunities to generate revenue as well as support technical innovation and attract technical investment from both inside and outside Oman.
This will also help complete the process of digitization of government services. It is also working in cooperation with various entities to define the strategic direction for a thriving digital economy in line with Oman 2040's vision for the future.
His Excellency indicated that the Sultanate, in the framework of the United Nations e-government survey for 2020, has reached the 24th position internationally and the second in the Gulf and the Arab countries in the index e-services development and the 50th international e-government development index.
In the network readiness report, Oman ranked 44th out of a total of 134 countries in 2020, and in the international cybersecurity readiness index, Oman ranked 16th in the world out of 175 countries in 2020.