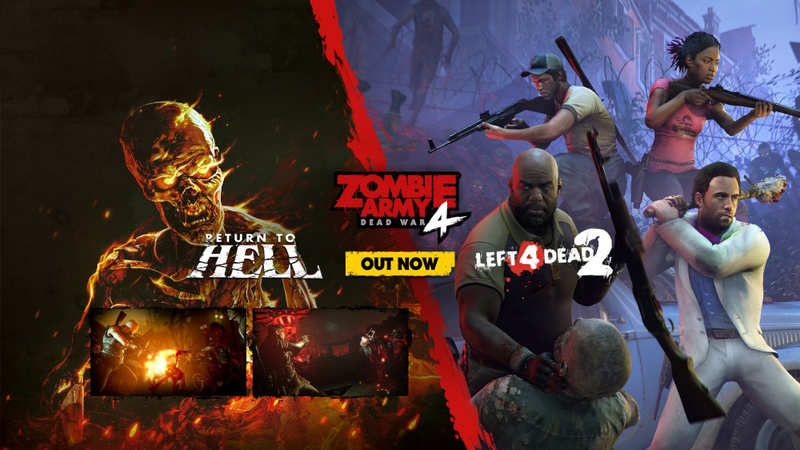 Co-op zombie shooting game Left 4 Dead 2's characters have arrived in Zombie Army 4: Dead War as playable characters. The lineup consists of the survivors Coach, Ellis, Nick and Rochelle, whose last outing was in The Last Stand update that L4D2 received in 2020.
The 4-player co-op game had earlier added Left 4 Dead's characters Bill, Francis, Louis and Zoey to the game at the end of June. Now, with four more iconic survivors, the Left 4 Dead series crossover with the Zombie Army 4: Dead War has been achieved, with all the eight characters added as playable characters for free.
The new group arrives just in time with the Zombie Army 4's Season 3 finale which has a new campaign mission called Return to Hell. Zombie Army 4's Return to Hell Pack is included in the game's Season Pass 3 which costs US $34.99 in total. You can also buy this individually for $6.99. Buying the Season Pass will also get you the Horror Headgear Pack, Horror Charm Pack 2, Van Helsing Weapon Skins and Flat Gun Weapon Bundle.
If you don't know much about the game, Zombie Army 4 is a 4-player co-op game like Left 4 Dead. The game puts you and your friends in a zombie-infested landscape of World War 2. The game recently added new content called Abaddon Asylum in which the fighters of the Resistance try to outsmart Baron Umbra, an occult mastermind, who is hiding in and operating from a heavily-fortified cultist territory.
FacebookTwitterLinkedin
[ad_2]

Originally Appeared Here